The following is a press release issued by Mendocino Railway:
---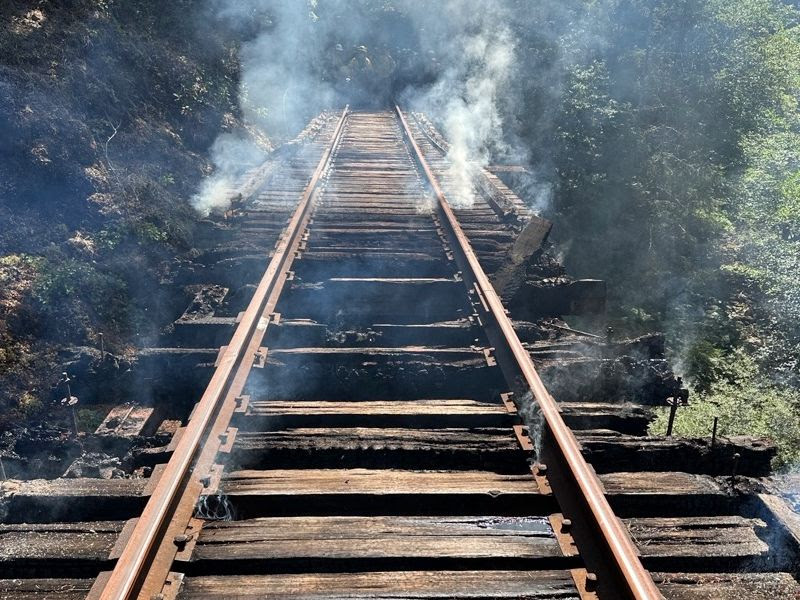 Mendocino Railway, the owner, and operator of the California Western Railroad / Skunk Train, a Class III common carrier, would like to extend its gratitude to the swift and coordinated efforts of CalFire's Mendocino Unit and other responding agencies in containing the Camp Three Bridge Fire known as the Spurs Fire.
The incident was first reported early Thursday, when it came to our attention that a fire had broken out at Camp Three, affecting Bridge 15.03. At the time of the report, the extent of the fire was unknown, and it was unclear which bridge was affected. However, we can confirm that there were no trains running over this bridge, only Railbikes, and nothing since Thursday morning.
Cal Fire promptly dispatched a helicopter to assess the situation and confirmed the presence of smoke, subsequently initiating water drops to combat the flames. Fortunately, the fire's rapid containment was achieved, and the helicopter returned to base with no other air attacks needed, indicating no further rate of spread.
We would like to emphasize that the safety of our passengers, employees, and the environment is of utmost importance to us. We have been actively collaborating with local, state, and federal authorities to address issues of illegal trespass and arson along the line. Recently, there was an incident at Camp Noyo where someone was forced off the premises, and we also experienced a couple of small fires along the Right of Way before, which were promptly investigated in coordination with CalFire and Little Lake Fire.
The Camp Three area, nestled along the picturesque Noyo River, holds a special significance for us, with its scenic S-turn through a narrow gorge and twin bridges. Unfortunately, the bridge's location at 15.03 makes it virtually inaccessible, making firefighting efforts challenging.
As a federally regulated railroad, we are taking all necessary security precautions and have informed TSA through their TSOC command center to potentially enlist additional resources, ensuring the utmost safety and efficiency in handling such incidents.
Mendocino Railway once again expresses heartfelt appreciation to CalFire's Mendocino Unit, the helicopter crew, and all other responding agencies for their dedication and professionalism in managing the fire in such rugged terrain.
No damage was done to the steel support structure of the bridge and new deck ties have been sourced and are enroute for a timely repair and reopening of the track.
For further updates or inquiries, please visit https://www.skunktrain.com or contact Robert Pinoli at rjpinoli@sierrarailroad.com